These folks are much geekier than I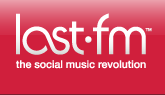 I guess the great thing about and the problem with Feldheim is the jew factor. 4/3. Jesus.
Guess we didn't calculate those
odds
.
Thing is, Jews are inherently lazy.
But
last.fm
solves that.
It uploads your tracks automatically.
See?
Here's what I've bene listening to.
Is this the dying wish of the big red box? I hope not. But at least it doesn't take much effort.